ED Supplements: Best Supplements For Erectile Dysfunction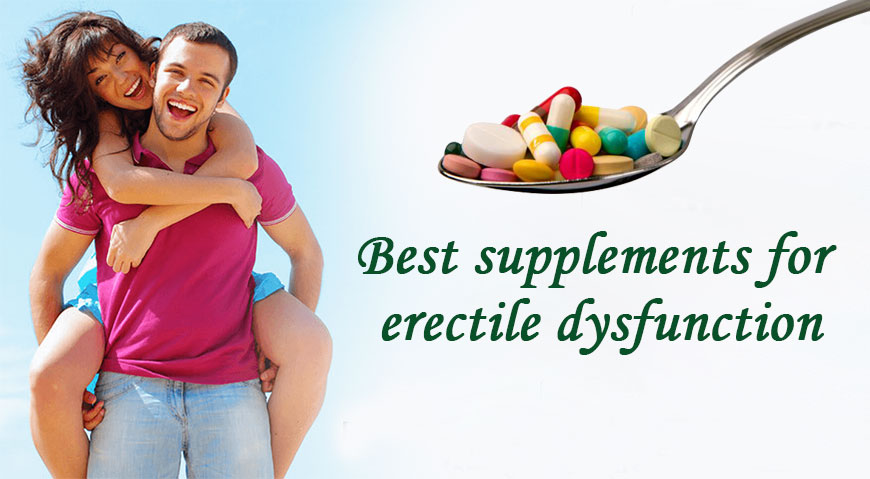 In this article, we'll discuss some of the best supplements for ED, their uses, and their side effects.
Overview
"Everything in the world is about sex except sex. Sex is about power." – Oscar Wilde
However flawed this statement might be, there are certain situations when men feel powerless when it comes to sex. They are afraid to embrace their sexuality or explore new options. They are insecure in romantic relationships and battle with low self-esteem. One such situation that can give rise to these issues is Erectile Dysfunction.
Though not openly discussed (as it should be) Erectile Dysfunction is quite common among men. Contrary to the popular belief that only aged men suffer from this issue, studies have shown that it has become increasingly common even among men in their early and late twenties.
Before proceeding to the best ed supplements which can help one tackle this issue, it is important to know what exactly Erectile Dysfunction is and the factors responsible for it.
What Is Erectile Dysfunction?
The condition when a man is unable to keep his penis firm or erect enough to indulge in sexual activity is called Erectile Dysfunction (referred to as ED from now on).
Causes Of Erectile Dysfunction
The factors which give rise to ED can be physical as well as emotional.
Physical Factor Of Erectile Dysfunction:
Clogged blood vessels (Atherosclerosis)
High blood pressure
Cardiovascular disease
Diabetes
Obesity
Parkinson's disease
Multiple Sclerosis
Alcohol or any other substance (drug) abuse
Sleep disorders
Prescribed anxiety medications and antidepressants
Also Read: Best Erectile Dysfunction Exercises For Men
Psychological Factors Of Erectile Dysfunction:
The brain controls and transmits signals to all the parts of our body. It also plays a vital part in arousal and pleasure. Thus, your ED issues may arise due to –
Anxiety (performance-related or otherwise)
Depression
Stress
Complications or intimacy problems with your partner could be the core issue you might need to fix.
Treating Erectile Dysfunction: Supplements For ED
1. L-Arginine
Found in poultry, red meat, fish, and dairy products, L-Arginine is an amino acid that aids in expanding blood vessels that enhances blood flow. According to Harry Fisch (MD, Clinical Professor of Urology and reproductive medicine at Weill Cornell Medical College)
"The body uses this semi-essential amino acid as the primary building block for nitric oxide."
Side effects of this supplement include nausea, cramps, and diarrhea.
2. DHEA
Studies show that DHEA (dehydroepiandrosterone) which is produced in the adrenal glands can enhance sexual function in both males and females. These dietary supplements can be made from wild yam and soy.
Side effect – It can cause acne.
3. Panax Ginseng
Popularly called "herbal viagra", Panax ginseng improves lung function, blood flow, and has anti-inflammatory properties that help in combating ED. Ginseng is known to promise hard and long-lasting erections while also improving libido.
Side effects – Headaches, insomnia, vertigo, etc.
4. Yohimbe
Obtained from the bark of the West African evergreen tree, Yohimbe can improve sexual dysfunction which is a result of the intake of selective serotonin reuptake inhibitors (SSRIs) which are generally used for treating depression.
Side effects – anxiety, fast and irregular heartbeat, and high blood pressure.
5. Horny Goat Weed (Epimedium)
Contrary to what the name suggests, horny goat weed enhances the erection and not the libido. This herb has been long used by the Chinese to cure sexual dysfunction. Research shows that the extract of epimedium – icariin, significantly increases nitric oxide synthase which in turn facilitates firmer erections in men.
Side effect – This herb might affect breathing or heart function.
6. Ginkgo Biloba
Although it has the potential to increase blood flow to the penis, studies have not been able to prove its benefit regarding ED.
Side effect – Has a risk to cause internal bleeding.
7. Propionyl-L-Carnitine
Combined with Viagra, it might improve ED. It is safe when used under medical supervision.
8. Vitamin B3 (Niacin)
Niacin or vitamin B3 reduces inflammation and increases blood flow. This is beneficial for men who have high cholesterol. High cholesterol is an underlying cause of ED. Vitamin B3 is also used to synthesize sex hormones.
Apart from herbs and supplements, there are some prescribed medications for ED. Oral medications like the ones mentioned below are usually available at all pharmacies.
Tadalafil (Adcirca, Cialis)
Vardenafil (Levitra, Staxyn)
Avanafil (Stendra)
Sildenafil (Viagra)
All these medicines are easily available everywhere. In fact, you can buy generic Viagra online or you can even buy generic Cialis online from our online store and get them delivered to your home safely and without any hassle.
Also Read: Best Viagra Alternatives
One must keep in mind that these prescribed medications or the supplements are not aphrodisiacs and that you will not automatically get an erection immediately after its intake.
Foreplay plays a vital role in this regard. The medications mentioned above enhances the effect of nitric oxide in the body. This, in turn, relaxes the muscles of the penis that ensure proper blood flow down there. It is advised to take these medications only under the supervision of a doctor.
According to the American Medical Association (AMA), about 30 million people in the US suffer from ED. For married men, ED will hinder their chances of making their spouse pregnant.
For the rest, it leads to an unsatisfactory sex life where a man feels that he is unable to meet the needs of his partner which ultimately renders him impotent. This condition often reduces libido and advocates abstaining from indulging in sexual activity.
However, the consequences of such withholding can be damaging to a relationship. Since a romantic relationship calls for both physical and emotional intimacy, the lack of physical connection can lead to estrangement and miscommunication. ED can also rise from performance anxiety.
To deal with this, it is advised to engage in physical intercourse in a place that makes you feel comfortable, safe, and secure. The ambiance, vibe, and mood need to be suitable and are necessary to make one's mind and body feel at ease.
It has been ingrained in the psyche of men that sex is an act of acquisition rather than an act of love and pleasure. This wrong notion is responsible for making men feel powerless when they are unable to engage in it. It is important to remember that a man is more than his ED, his worth is not only limited to how he performs in bed but his personality as a whole.
Keeping this in mind, pushing behind the embarrassment and erasing the stigma associated with this issue, if you happen to be suffering from ED, I hope you can muster up the courage to see a doctor and a therapist to get it treated. Sex is not the be-all and end-all of the universe, but your body, pleasure, and confidence might be.

FREE DELIVERY FROM $150
Free world wide shipment

eCheck, BitCoin & Money Transfer
Avail Extra 15% Discount

GUARANTEED DELIVERY OF PRODUCT
FREE RESHIPMENT With no Extra Cost