Alternatives For Flomax: Everything You Need To Know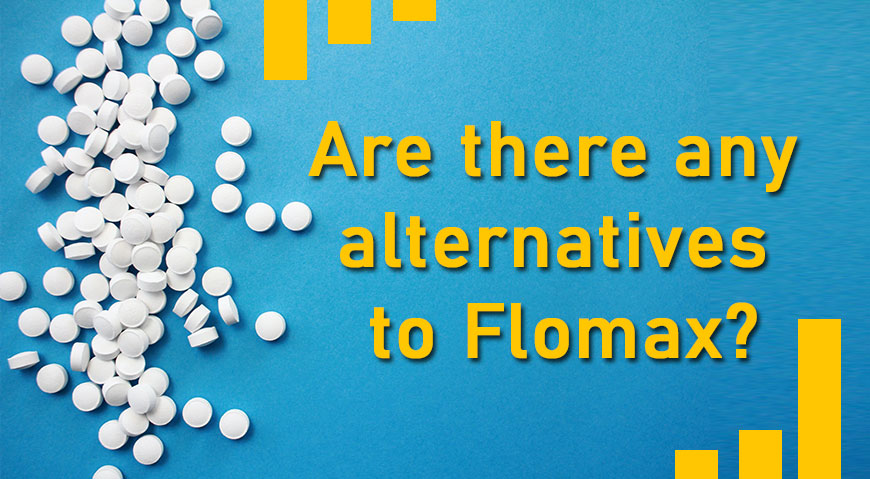 In this article, we'll discuss the alternatives for Flomax.
What Is Flomax?
Flomax is the branded name of the drug Tamsulosin. It is often used by men to treat the symptoms of an enlarged prostate, also known as Benign Prostatic Hyperplasia (BPH). However, it is also prescribed to treat Chronic Prostatitis, Urinary Retention and also helps with the passage of kidney stones. However, in the case of kidney stones, Flomax proves to be effective if the size of the stones varies between 4 mm and 10 mm.
Now that we have seen what is Flomax used for, let us now speak a little about what is Benign Prostatic Hyperplasia (BPH) and Chronic Prostatitis?
Benign Prostatic Hyperplasia (BPH) – Benign Prostatic Hyperplasic is characterized by the enlargement of the prostate gland. Benign Prostatic Hyperplasia is also called Benign Prostatic Hypertrophy or Benign Prostatic Obstruction.
Symptoms Of Benign Prostatic Hyperplasia
With the enlargement of the prostate, the prostate gland starts to press the urethra. The bladder walls become thick resulting in the bladder becoming weak and thus the ability of the bladder to empty its entirety is lost, resulting in some amount of urinary retention.
The urethral stenosis along with retained urine and the inability of the bladder to completely empty itself results in symptoms associated with Benign Prostatic Hyperplasia (BPH).
Following are the symptoms of Benign Prostatic Hyperplasia (BPH):
Increased frequency of urination at night
Difficulty starting urination
Weak urine stream or a stream that stops and starts
Dribbling at the end of urination
Inability to completely empty the bladder
There are two main growth phases of the prostate that can be linked with aging.
The first phase begins when the individual is in the initial stage of puberty and the prostate enlarges to almost twice for its size that it was originally.
The second phase of development starts when a male reaches the age of 30 to 35 years, with the process being an ongoing one throughout the entire lifecycle of a male. Benign Prostatic Hyperplasia tends to occur during the second phase of development.
Chronic Prostatitis – Chronic prostatitis may be caused by a bacterial infection, but in many cases, however, the cause of the condition is unknown.
It can produce uncomfortable symptoms such as:
Burning during Urination
Frequent need to urinate
Pain in the lower back
Painful ejaculation
Pain in the lower abdomen
Pain above the pubic area or between the testicles and anus
Feeling as if the bladder is not fully emptied after urination
How Does Flomax Work?
Flomax belongs to a class of drugs known as alpha-blockers and works by relaxing muscles in the prostate and thereby reduces the symptoms of BPH. However, it does not decrease the overall size of the prostate in men suffering from BPH and is not recommended for the prevention of prostate cancer.
It is considered as a selective a1A receptor antagonist that has preferential selectivity for the a1A receptor in the prostate versus the a1B receptor in the blood vessels.
When Alpha 1 receptors in the bladder neck, prostate, and urethra are blocked, a relaxation in smooth muscle tissue occurs. This mechanism decreases the resistance of urinary flow, reduces discomfort associated with BPH, and facilitates the passage of kidney stones.
Side Effects Of Flomax
The following are the common side effects of Flomax:
Dizziness
Nasal congestion
Paranasal Sinus Congestion
Rhinitis
Rhinorrhea
Seasonal allergic rhinitis
Cough or hoarseness
Fever or chills
Lower back or side pain
Painful or difficult urination
Alternatives For Flomax
Other alpha-blockers work in pretty much the same way as Flomax. A generic form of Flomax is called Doxazosin. Also, Hytrin is yet another generic drug that works well. Both drugs are non-selective alpha – 1 blockers, which means they can lower a person's blood pressure.
Some alternate Alpha-blockers to Flomax are –
Uroxatral (Alfuzosin)
Rapallo (Silodosin)
Non – branded Tamsulosin
More alternatives for Flomax
Alpha-blockers are not the only option for treating BPH several other drugs may help:
5-Alpha – Reductase Inhibitors
5-Alpha reductase inhibitors can help in reducing the enlargement of the prostate and bringing it back to its original size. This can be done by restricting the bodily hormones to convert testosterone into dihydrotestosterone (DHT).
DHT is critical to the growth of the prostate gland. This builds excess pressure on the urethra and makes the flow of urine a painful experience. Some 5-alpha reductase inhibitors are Avodart (Dutasteride) and Proscar (Finasteride). These medicines negatively affect the libido and reduce the time taken to ejaculate.
Sometimes they can also lead to the development of erectile dysfunction gynecomastia. This is referred to as the unwanted growth of breasts in males.
Phosphodiesterase-5 Inhibitors
Phosphodiesterase-5 inhibitors are drugs to treat erectile dysfunction (ED). They may also treat the symptoms of BPH, particularly in men who also have ED.
Sometimes Phosphodiesterase-5 inhibitors consumed along with other BPH drugs can help tackle the erectile dysfunction side effects. Drugs in this group include Viagra, Levitra, Cialis, Spedra, etc.
If you want, you can buy generic Viagra online or you can even buy generic Cialis online or Sildenafil citrate 100mg from our online store and get them delivered to your home safely and without any hassle.
Saw Palmetto
This is more of an herbal alternative to Flomax. Finasteride (Proscar) is a common medication used to treat BPH and it comes under the category of 5-alpha reductase inhibitors.
Saw Palmetto has similar properties and effectiveness as compared to Finasteride. It helps in relaxing the bladder muscles and the prostate – this leads to a relief in painful and worrisome urinary symptoms. As it is a natural herb, it has fewer side effects as compared to Finasteride.
Mild headaches, lower libido, and uneasiness in the stomach leading to gastrointestinal problems are few side effects that can occur; but since the effects aren't something to worry about, Saw Palmetto is one of the best alternatives for Flomax.
Pygeum Africanum
This is another herbal remedy that can be used as an alternative to Flomax to treat BPH. France has been using this herb for BPH patients for decades. The ingredients present in this herb are known to slow down the prostate enlargement process while significantly improving urine flow.
Secale Cereal
This is a form of extract that can be obtained from plant pollen that digests bacteria. It may not help in regaining the original size of your prostate or rediscovering a comfortable urine flow cycle, but it most definitely helps in relieving nighttime urination episodes in men.
Side effects can be mild and range from skin reactions to mild gastrointestinal symptoms.
Cernilton
Another herbal remedy is a supplement that can be purchased over-the-counter (OTC). Widespread experimentation has deduced that consuming Cernilton regularly can help to significantly improve urological working within the body.
Alternatives For Flomax: Wrap Up
Some more herbal remedies are Babassu and Saxifrage, derived from Brazilian and Chinese herbs respectively. Both these remedies slow down the process of prostate growth and kill some amount of the extra prostate cells.
Keep in mind that the FDA (Food and Drug Administration) does not check the quality of supplements. For this reason, it would be a wise choice to consult your healthcare provider before you begin the intake of such remedies.

FREE DELIVERY FROM $150
Free world wide shipment

eCheck, BitCoin & Money Transfer
Avail Extra 15% Discount

GUARANTEED DELIVERY OF PRODUCT
FREE RESHIPMENT With no Extra Cost