How to Lower Diastolic Blood Pressure?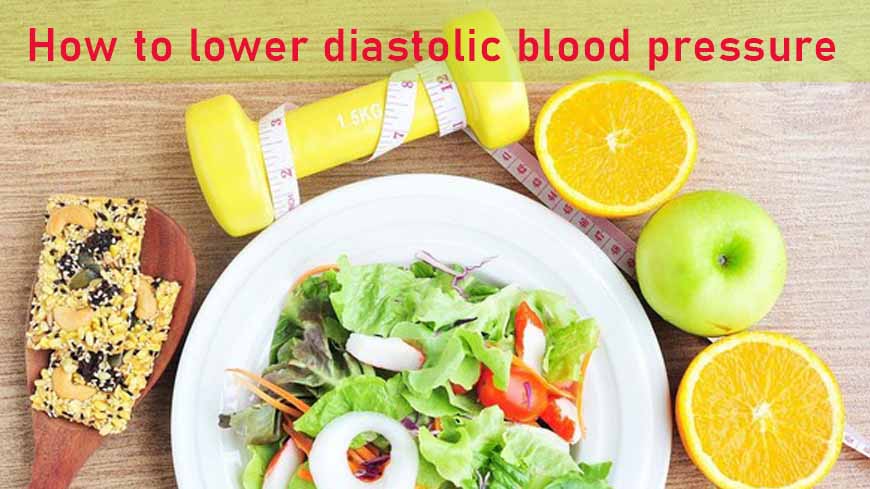 If you're dealing with the issue of increased diastolic blood pressure & are finding it difficult to keep it in control, we've got 7 practical, functional & easy to follow the advice that will definitely work for you.
Blood pressure is a factor that can determine how healthy a person is, at what rate is their heart beating, and what is the possibility of a heart attack to occur.
The amount of blood being pumped from your heart to arteries, veins, and cells helps deduce your blood pressure ratings.
The walls of the circulatory system have blood pumping in and about throughout your lifespan and this rating helps calculate one's accurate blood Pressure.
There are two types of blood pressure measurements, the first being the Diastolic blood pressure and the second being the Systolic Blood Pressure.
Say your blood pressure is 90-120 beats per minute, then the lower value of 90 is called Diastolic Blood Pressure (DBP) and the higher value of 120 is what is known as Systolic Blood Pressure (SBP).
When one has a high DBP, then you need to consult a doctor to ensure it does not go lower than needed and this condition is called Isolated Diastolic Hypertension.
In case your DBP falls below 60 then due to insufficient pumping of blood to your organs, there is an increased risk of catching heart disease or going through heart damage.
7 Tips to Lower Diastolic Blood Pressure
1. Check Nutritional labels of all products you consume
It is a mandatory requirement by the FDA (Food and Drug Administration) to publish an ingredient list and nutritional values of important parameters on the packet of every purchasable and consumable product in the market.
Carefully and diligently read the lists and values to ensure you are not taking in an excess of Sodium, Sugar, Fat or Calories.
Be aware of the 'Added Sugar' value is this indicates the number of unnatural sugars in the product and proves to be more harmful and surely affect a sensitive person's blood pressure levels.
Read the ingredient list thoroughly to ensure that none of the components in the packet contain any items that have been disallowed for you by your doctor.
2. Learn the Art of Stress Management
As you grow older, you will face more stringent deadlines, you will have to take care of multiple family members including your children, you will have to perform at a high level at your workplace, and also attain a work-life balance. This is when stress seeps into your life and causes ample anxiety, displeasure, and irritation which puts you on the wrong foot in many ways.
Shouting, getting aggressive, or even moving around in a hasty manner are traits of a stressed person, this stress naturally increases your blood pressure.
This increase proves to be fatal to your organs, and arteries as blood are being pumped at a very high rate and there is surely damage occurring to blood vessels and nerves.
When you take deep breaths, learn to let go and master the art of handling stress, then you can be sure to eradicate at least one cause of your high or low blood pressure problem.
3. Embrace mild workouts and activities
The most common solution for many people who suffer from high and unstable blood pressure is to go for walks, jogs, and do exercise for 30-45 minutes every day. This disciplines your body to pump just the correct amount of blood to your organs in order to easily function while or after your activity session.
You will also lose weight which plays a crucial role in relaxing your muscles, ultimately leading to smooth blood flow and a more controlled DBP and SBP.
4. If you like Chocolate, switch to only Dark Chocolate
It has now been deduced by scientists all over the world that the consumption of dark chocolate every night reduces blood pressure levels.
This is because of the presence of Cocoa, which regulates the insulin insensitivity factor by increasing the person's capacity to breakdown and process glucose more efficiently.
If you are eating Dark Chocolate then you might as well remember to only purchase Dark Chocolate bars with a minimum of 75 percent Cocoa present.
5. Adapt a DASH (Dietary Approach to Stop Hypertension) diet
This is a specialized diet plan for people who want to avoid hypertension and reduce the likelihood of having a heart attack.
Researchers have concluded that the majority of people with plant-based diets did not have high blood pressure issues.
Thus, scientists have curated a diet plan with fruits and vegetables, along with protein-focused chicken and fish with minimal intake of salt.
The great number of antioxidants and blood cleaning properties present in various green vegetables and plants cures the body of harmful free-flowing radicals which ultimately permits the smoother and uninterrupted flow of blood within the human body.
6. Take Prescription Medicines and Probiotics
This is the 21st century and doctors have come up with a thousand medicinal combinations that help combat low and high blood pressure issues.
Blood Pressure medicines such as Midodrine and Fludrocortisone activate receptors in the body that allow arteries and veins to summon an increase in blood pressure.
A tablet after your meal stabilizes your blood pressure for the day. Also, the influence of consuming probiotic-rich products such as yogurt does help reduce blood pressure (DBP) by an average of 2.4 mm Hg in every human.
7. Avoid Saturated and Trans Fat foods
The nutrition label of products always mentions saturated fat and trans fat values, these are the bad fats that must be avoided as they get stuck in your system and cause hindrance to the flow of blood.
Many products contain Polyunsaturated and Monounsaturated fats which are good fats and advocate the reduction of blood pressure levels due to cutting down cholesterol levels. These good fats are taken out of fatty fish, seeds, nuts, and plant-based oils, and are then added to food products to provide a healthy advantage too.
You must remember that lowering your elevated Diastolic Blood Pressure will reduce the chances of developing a higher Systolic Blood Pressure too.
When your Diastolic Blood Pressure is lowered to under 90 mm Hg then there is a decreased risk of suffering from heart failure, myocardial infarction (MI), sudden death, and other such life-threatening cardiovascular situations.
Also Read: Tips To Lower Blood Pressure In Minutes
Wrapping Up
The fact remains that to stay healthy and hearty, you must eat more veggies than meat, be aware of product information on the back of packages, master the art of stress management, avoid sweets like cakes and candies; switch to dark chocolate instead, and reduce your salt intake.
Follow these simple tips & you will surely notice positive changes in your body.
January 21, 2020 Sam Bell

FREE DELIVERY FROM $150
Free world wide shipment

eCheck, BitCoin & Money Transfer
Avail Extra 15% Discount

GUARANTEED DELIVERY OF PRODUCT
FREE RESHIPMENT With no Extra Cost