Instructions On How To Take Viagra For Erectile Dysfunction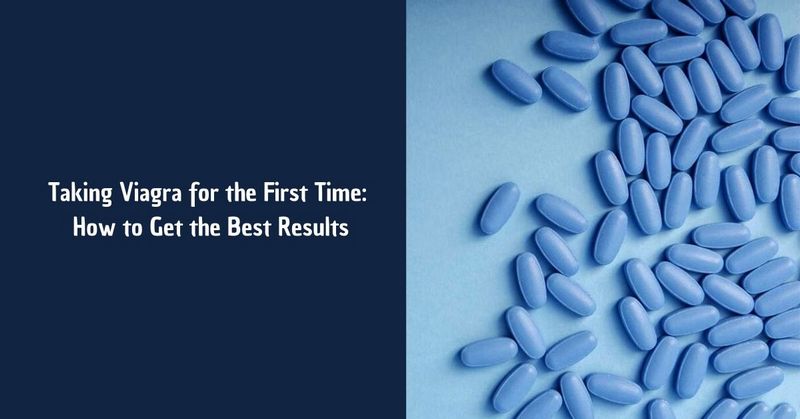 Viagra is an FDA-approved medication for the treatment of erectile dysfunction. You need to take a pill 45 minutes to 1 hour before intercourse. Consume the tablet with water. Do not chew, crush, or break the pill. To avoid overdose, take only one pill at an interval of 24 hours.
Read further to know the type of food to take before Viagra, the effect of the ED pill, causes of erectile dysfunction, duration of action mechanism, contraindications, tips for taking the medicine, and FAQs.
Should You Take Viagra Before Or After Food?
You can take the ED medicine either with or without food. You may want to have a meal beforehand. If so, the pill may take an hour or longer than usual for it to function adequately. The action may delay further if you take a high-fat food item such as fries, pizza, cheeseburger, etc.
Sildenafil in the pill reaches peak concentration in plasma after 30 to 120 minutes of administration. The average time taken to work is 60 minutes. The active ingredient of the tablet is metabolized by hepatic CYP3A4. The medication thus has a terminal half-life of around four hours.
The interval between a meal and pill dosage matters. You need to wait longer for Viagra to work if you have taken a meal recently. If you are prone to indigestion, then taking a light meal beforehand may help. The medicine works the best if you take it on an empty stomach.
Effect of Viagra After Intake
After intake, the tablet gives effect within half an hour to an hour. Sexual stimulation is necessary for the medicine to give its full effect. If the stimulation is enough, you will get a good hard-on. This shall last for 4 to 6 hours. The medicine contains Sildenafil Citrate. This is a PDE5 (phosphodiesterase type 5) inhibitor.
The pill boosts the mechanism of cyclic GMP upon arousal. The chemical dilates the blood vessels of the corpus cavernosum. It also soothes the muscles and tissues of the penile organ. Thus, the organ receives sufficient blood flow for a strong erection. The Viagra for ED treatment blocks the PDE5 enzyme.
It inhibits the enzyme from breaking down cGMP. Due to this process, the blood does not seep out of the male reproductive organ easily. You can therefore maintain a healthy erection for a longer duration. Also, the medication gets rid of a weak or soft erection.
What Causes ED and Why Take Viagra for it?
There are several causes of erectile dysfunction. These include emotional, physical, and psychological issues. Some of the examples are depression, stress, performance anxiety, diabetes, hypertension, relationship problems, sleep disorders, injury at pelvic, certain medicines, etc.
Here are other reasons include:
High cholesterol
Heart diseases
Spinal cord injury
Multiple sclerosis
Smoking and drinking alcohol
Lack of testosterone
All these complications may give rise to improper blood circulation to the penile organ. And Viagra for ED helps to increase blood circulation to the male reproductive organ. It aids in getting and sustaining an erection. It works well once you get sufficient sexual arousal.
Visit our website to buy generic 100mg viagra online at a discounted price.
Duration of Work
It can take up to 30 to 60 minutes for the medicine to work. If not taken properly, it can take longer to work. If you are sexually aroused and relaxed, the pill may work sooner. How long the medication effect will last depend on several factors.
These include your health, age, how empty or full your stomach is at the time of dose administration. Typically, you can retain the ability to maintain an erection for up to 4 hours or more. But you will not have an erection for the entire time. Once you climax, the organ will become soft.
But on arousal once again, the hard-on will occur in the given window. For instance, you are done with ejaculation after an hour of sexual activity. Then you can again receive an erection if further stimulation exists. And can remain hard for the next activity till the medication effect wears off.
Contraindications
If you have an allergy to any of the ingredients to Viagra for ED, then avoid taking it. The following are other contraindications:
Nitrate medications of any type such as isosorbide mononitrate
Nitroglycerin such as Gonitro, Nitro-Dur, Nitromist, Nitrolingual Pumpspray, etc
Guanylate cyclase stimulators such as Adempas (riociguat)
Grapefruit juice and certain antibiotics
Do not chew, split, crush the medicine. Rather swallow the tablet with water. Avoid taking the pill with energy drinks or alcohol.
Tips to Take Viagra Correctly for Full Efficacy
Here are a few tips on taking Viagra for ED and get the best results:
Before Taking the Medicine
If you want a meal beforehand, choose a light one. Avoid high-fat food items so that the medicine gets absorbed in the body quickly. Also, take a small meal and not a large one. Give yourself an hour or two so that the food gets digested properly.
Do Not Take Recreational Substances
Alcohol and recreational substances affect the central nervous system. These interfere with the action mechanism of the ED pill. Thus, avoid these substances if you plan to perform well on the bed after using Viagra. Moderate drinking may also cause a problem if you have existing health issues.
Interaction between the medication and alcohol may lower blood pressure. This can lead to symptoms such as dizziness, headache, nausea, and disrupt the mood.
Have Patience and Improve Your Mood
After taking the pill, wait for some time. Engage in foreplay if you want to than trying to have intercourse. The medication works well on arousal. So, focus on that and build it. It can take an hour or so for the tablet to give its full effect. Also, the erection remains for 4 hours.
You will have enough time at hand once a hard-on happens. You can achieve stimulation with activities such as fantasizing, solo pleasure or act with your partner, sensual talks, or playing at erogenous zones.
Frequently Asked Questions about Taking Viagra
Here are FAQs on Viagra for ED:
Can You Overdose if the Pill Does Not Work?
There could be several reasons for the medicine to not work. Maybe the dosage or intake instructions were not followed properly. Or, there was no sexual desire and stimulation for an erection to result. If that is so, then overdose is not the solution.
Rather taking a higher dose than recommended can lead to unpleasant effects. You may want to consult a professional. This will help to understand what may work in your favour and solve erectile dysfunction.
Can You Take Viagra for Recreational Use?
The temptation to use an ED pill for recreation is seen in several people. However, this is highly discouraged because just like any other medicine, Viagra is for the treatment of erectile dysfunction. It is not approved for recreational purposes.
If you use it even without facing any physical issue of erection, you may encounter harsh effects, leading to even death. Or, you may have to deal with serious side effects and lose the power to get an erection ever again.
What is the Effect of Viagra on Ejaculation?
Viagra for ED may not have much effect on ejaculation. But it can help keep a hard-on effective for intercourse. Some people may see a positive effect on the overall sexual experience. But the effect of PDE5 inhibiting medication on climaxing is not noticeable.
Can Females Take Viagra?
The Viagra for ED is not approved for use in females. However, it works great for men. But women should not take this medication. Women do face sexual arousal disorder and other sexual dysfunctions, especially after menopause. In some cases, women may face a lack of vaginal lubrication.
It can be a case of vaginal dryness, lack or delay in orgasm, a problem with libido, etc. After taking Viagra, females do not feel any difference in their sexual disorder. In males, however, the medication improves the blood flow to the penile organ. PDE5 also exists in a woman's genitals.
But the PDE5 compared to that in male's genitals is less in that of women. This is why Viagra does not have much positive effect on females. For them, there is a different medication that can take care of respective dysfunctions.
How Well Viagra Works on the First Time of Use?
For most users, the pill works efficiently from the first time of use. But for others, it can take some time or few uses to experience the full effect. Once the body adjusts to the dosage, you can expect better efficacy from the tablet. If the medicine does not work as per expectation, talk with your doctor.
Final Thoughts
As a primary treatment, Viagra for ED works well in males. It has several pros and helps those with physical disorders leading to weak erections. Consult a doctor and let them know about your medical history, ongoing medications, and other necessary details before starting with the ED pill.

FREE DELIVERY FROM $150
Free world wide shipment

eCheck, BitCoin & Money Transfer
Avail Extra 15% Discount

GUARANTEED DELIVERY OF PRODUCT
FREE RESHIPMENT With no Extra Cost