Generic Viagra Myths And Facts That Will Surprise You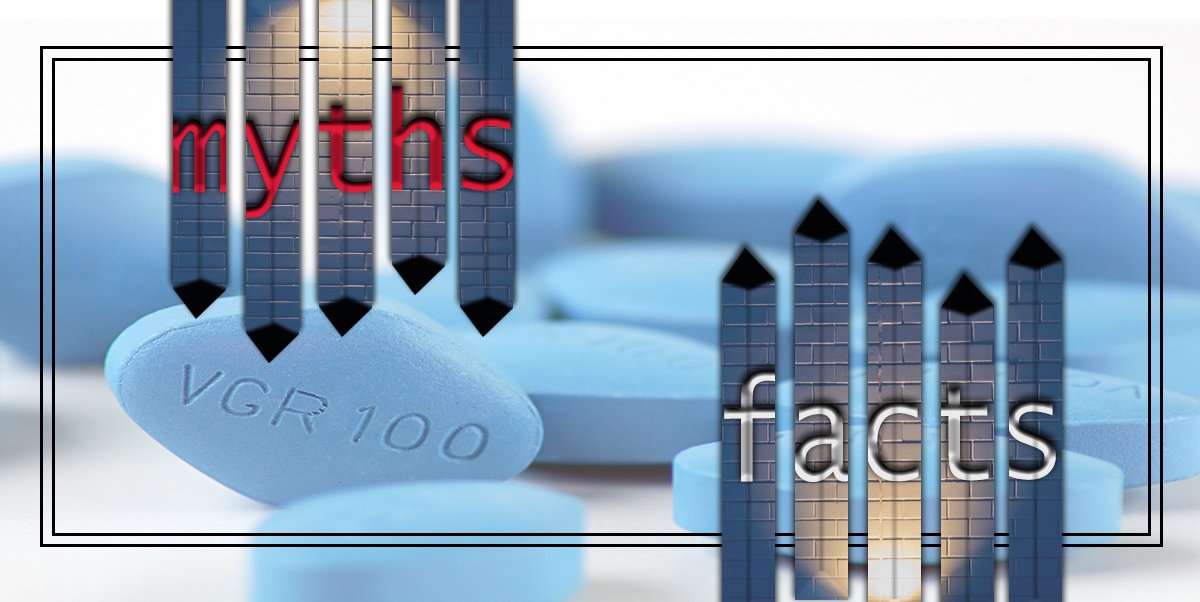 Introduction
Generic Viagra or Sildenafil is the active ingredient in Viagra. Sildenafil is known for using to treat erectile dysfunction (the inability to get or sustain an erection firm enough for sexual intercourse). Since it is a known drug, there are many myths about generic Viagra.
While both Viagra and Generic Viagra are effective treatments for ED. They do have some differences:
Viagra is a little blue pill, while Generic Viagra is sold as a small white pill.
It is owned by Pfizer, but sildenafil is a generic drug that may not be produced by Pfizer.
Viagra costs around $60-$70 per tablet, but generic sildenafil may cost anywhere between $1-$10.
Although, the function of Viagra and generic Viagra is the same. They're both used to treat erectile dysfunction and are effective ways of doing so.
Side Effects of Taking Viagra or Generic Viagra
Like any other medication, even these medicines have side effects. While most of the side effects aren't that serious, some may require you to visit the doctor. The side effects are as follows:
Back pain
Headache
Upset stomach
Memory problems
Ringing in the ear
Flushing
Vision problems
You should call or visit your doctor if you are facing any of these symptoms:
Shortness of breath
Loss of hearing
Irregular heartbeat
Lightheadedness
While it is common to face some side effects, if the side effect you are feeling is intense, you should visit a doctor.
Myths About Generic Viagra
As it has become a more known drug in the market, the myths about generic Viagra have increased.
Here are the most common myths about generic Viagra:
Viagra is the only treatment for erectile dysfunction
Viagra is a type of PDE5 inhibitor. PDE5 inhibitors are the most common medication used for treating erectile dysfunction. There are four types of PDE5 inhibitors:
1. Avanafil (Stendra)
2. Sildenafil (Viagra)
3. Vardenafil (Levitra)
4. Tadalafil (Cialis)
Cialis is the most long-lasting ED pill out of all. While Viagra has been shown to improve the quality of life among men. Thus, Viagra is not the only means of treatment for ED.
Generic Viagra is bad for your heart
This is another one of the common myths about generic Viagra. Viagra was originally conceived to help with heart problems and high blood pressure. However, during the clinical trials, it was discovered that Viagra is more effective at inducing erections.
Taken alone, Viagra will not affect your heart. But you should not take it if you're already taking nitrates for heart health as that might lead to complications.
The active ingredient in it, sildenafil citrate, opens up your blood vessels. But keep in mind, if you're already taking medication for heart health, your blood pressure may drop too low and cause a heart attack.
Generic Viagra leads to a four-hour erection
Sildenafil won't give you a four-hour erection. It helps in getting and maintaining an erection when you're aroused. It works 30-60 minutes after consumption and stays active for 4-6 hours. However, that doesn't mean that you will have an erection for 4 hours. The intensity of the variation fluctuates as time passes.
Simply taking the pill won't cause an erection. Moreover, your erection will subside after ejaculation, as it normally does.
However, in some rare cases, you may get along and a painful erection, also known as priapism. That is not normal, and you should visit the doctor in such a condition.
Generic Viagra increases sexual arousal
One of the most widespread myths about generic Viagra is that it increases sexual arousal and performance. Generic Viagra is not a stimulant or an aphrodisiac. It merely relaxes muscles to allow blood to flow into the penis, allowing an erection.
Viagra helps to treat the underlying physical condition that may be causing ED. It cannot treat any mental and psychological condition. Therefore, Viagra cannot increase your sex drive nor can it activate it.
Generic Viagra needs to work the first time or it won't work ever
It doesn't need to work the first time you take it. You may have to try taking it a couple of times before you finally see results. However, you should only take the proper dosage prescribed to you and nothing more than that.
This stands true for all other ED pills too. ED pills don't have to show results the first time they're taken. You may have to try a couple of times before it shows results.
Some people may see immediate results. However, it doesn't need to work the same way for everyone.
Taking more tablets of Generic Viagra has a better effect
This is not true. In fact, taking more than the prescribed number of tablets may lead to complications like priapism (unwanted, long, and painful erection). You should not take more than one dosage in 24 hours. A typical dose of Viagra is usually 50mg. However, the dosage can differ from person to person.
Generic Viagra is addictive
This is another common myth about generic Viagra. It is important to take the prescribed dose and nothing more, but Viagra is not addictive.
Sildenafil is approved by the government body that regulates medicines in the UK. After clinical trials, it has been concluded that there is no evidence to prove that Viagra is an addictive drug.
Generic Viagra protects against STDs (sexually transmitted diseases)
Viagra and all other ED pills do not offer any protection against STDs and STIs. It is advisable to use a condom if you want to practice safe sex and prevent many STDs and STIs.
You should consult your doctor if you are not fully informed about the usage of Viagra before starting its dosage. Don't forget, it is important to debunk any myths about generic Viagra you might have heard before you start using it.
Facts About Generic Viagra
Generic Viagra is a prescription medicine. There are some basic facts about it you should know before you start taking it. Some of these facts are:
Generic Viagra works best on an empty stomach
Eating a heavy meal can reduce the effectiveness of Viagra. You should preferably take Viagra on an empty stomach, an hour before sex.
Generic Viagra can prevent penis bending and scarring
If started early enough, Viagra can prevent penis bending and scarring by allowing an erection that is firm enough for sexual intercourse. Having sex with a penis that is not firm enough for penetration can cause damage to the penile tissues. This may cause your penis to bend in the future. However, if ED is diagnosed in the early stages. You can start medication and prevent such a condition.
Generic Viagra cannot be taken with other medications
Generic Viagra may interact with certain medications, which can prove to be fatal for the person consuming it. You should consult your doctor if you're taking any prescribed, over-the-counter, or supplemental medicines.
It is a prescription-only medicine in the entire United States. However, it can be bought without a prescription in the UK under the name Viagra Connect. This decision was made to reduce the selling of Viagra in black markets.
Sildenafil can treat problems other than ED
As discussed earlier, sildenafil was earlier made to treat heart problems and blood pressure. It was only through the clinical trials that it was found out that sildenafil leads to an increased number of erections.
Sildenafil can help in treating pulmonary arterial hypertension and high blood pressure. Currently, 20mg of Revatio and generic sildenafil are used to treat both problems.
You can buy generic viagra online at low price.
Conclusion
Generic Viagra is an effective treatment for erectile dysfunction. However, it is best to consult a doctor before starting its dosage to find out if any of your underlying conditions could react with the medication.
Moreover, a doctor will be able to guide on the proper dosage of the medicine too. Ultimately, you cannot buy Viagra without a prescription. Luckily, you can even get prescriptions through online assessments and consultations.

FREE DELIVERY FROM $150
Free world wide shipment

eCheck, BitCoin & Money Transfer
Avail Extra 15% Discount

GUARANTEED DELIVERY OF PRODUCT
FREE RESHIPMENT With no Extra Cost